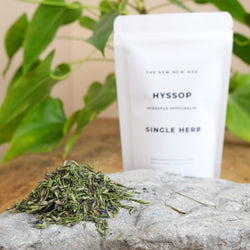 Hyssopus officinalis 
Psalm 51:7 - "Cleanse me with hyssop, and I will be clean..."
Hyssop, an herb that is native to the Mediterranean region, is mentioned several times in the Old and New Testaments of the Bible, as a spiritually cleansing and protective plant. 
Use hyssop sparingly as a culinary spice, macerated in spirits, infused as a tea or holy water purge.
Grown in a magic garden using Druid traditions.  
35 g 
Precautions
Not for use in pregnancy except under the supervision of a qualified healthcare practitioner. Consult with a qualified healthcare practitioner before using herbal products, particularly if you are pregnant, nursing, or on any medications.