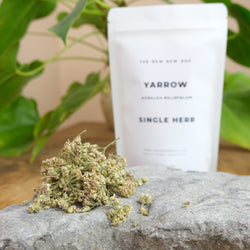 Achillea millefolium 
Yarrow has a long recorded history of use, including Classical Greek mythology from which its name "Achillea millefolium" is derived, meaning the "Thousand leaved plant of Achilles."
Yarrow leaf and flower are an excellent addition to skincare, teas and tinctures, and is a supportive and enhancing presence when used in blends. 

Grown without synthetic fertilizers or pesticides in an ecologically regenerative manner. 
20 g